Alumni Talk Series - 1
Distinguished Alumni – Student Interaction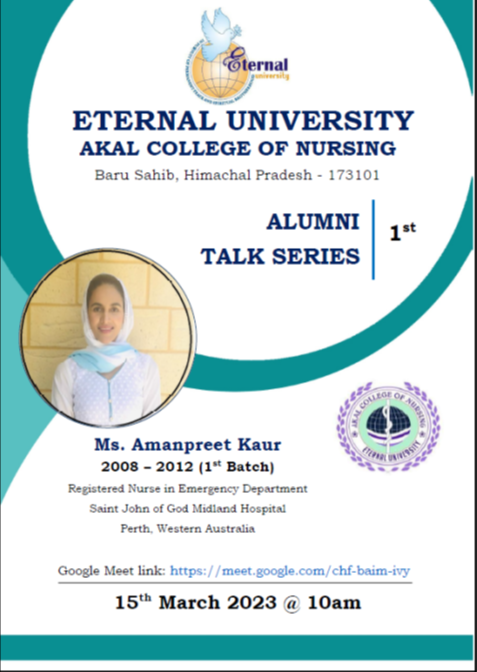 Alumni Talk Series - 1
Akal College of Nursing alumnus makes a significant contribution to the development of the Institution. In addition to being a significant alumni of the institute, provide input to their junior regarding their career prospects values more to the institute. The important platform AkalConnect offers students the chance to hear from their seniors about their experiences transitioning from college to the workplace.
This Alumni Talk Series will help the next generation have a more inclusive and promising future. Transformative conversations between students and alumni are prioritised in our alumni engagements.
On 15/03/2023 at 10am Alumni –Student Interaction session was organized by Alumni Association, Akal College of Nursing.
Alumni : Ms. Amanpreet Kaur
Batch : 2008 – 2012 (1st Batch of B.Sc.(N)
Current Position : Registered Nurse in Emergency Department,
Saint John of God Midland Hospital, Western Australia Around 120 students attended the programme. Few of the questions from the audience were taken up by the speakers during the Q & A session. The variety and range of questions raised show that the participants took an active part in the programme.
Gallery