NSS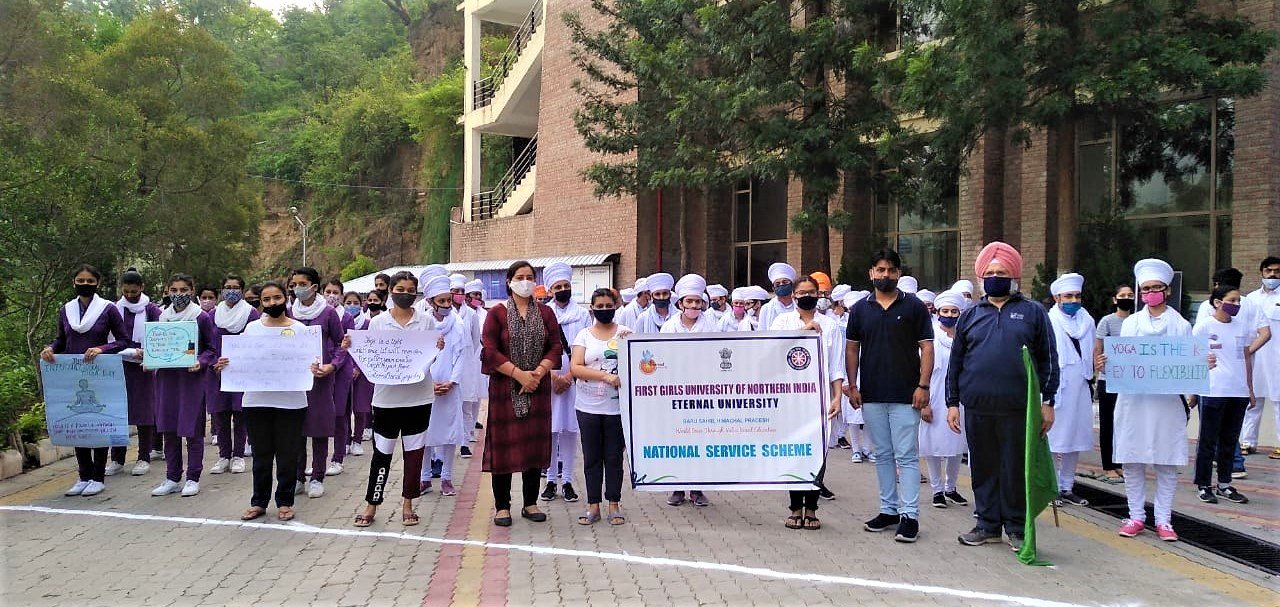 At Eternal University, special efforts are put in to develop students' personality through community services. NSS (National Service Scheme) at Eternal University is a voluntary association being run by students themselves under guidance from faculty members. Various NSS camps are organized every year where students undertake various social welfare activities like Tree Plantation and awareness programs on drug de-addiction, AIDS, Swine-flu and campaign for saving water and cleanliness.
The National Service Scheme (NSS) was introduced by the Government of India in the year 1969, and it has evolved ever since. It aims at developing amongst students a sense of participation in the process of nation building through social work. We have presently one self-financed unit of NSS at Eternal University, Baru Sahib, with a sanctioned strength of 100 volunteers. Against this, a total of 70 students have enrolled as volunteers.
The main objectives of National Service Scheme (NSS) are:
Understand the community in which they work.
Understand themselves in relation to their community.
Identify the needs and problems of the community and involve them in problem-solving
Develop among themselves a sense of social and civic responsibility.
Utilise their knowledge in finding practical solutions to individual and community problems.
The Motto of NSS "Not Me But You", reflects the essence of democratic living and upholds the need for self-less service.
NSS @ Eternal University
NSS @ Eternal University
| Date of the event | Program Organised | Detail of the work carried out |
| --- | --- | --- |
| 22 March, 2021 | International Water Day | The activities of this event were carried out by the NSS wing of the EU. Dr. Mahesh Tripathi gave a lecture on water conservation and showed documentary movie related to it. Volunteers explained the importance of water with the help of posters. Worthy Pro Vice Chancellor, Eternal University, Prof. A.S. Ahluwalia, addressed the students and talked about the importance of water in our life. NSS Volunteers had a visit to water treatment plant near to B.Ed College. Students of EU, the cadets of NCC, all took active participation. |
| 21 March, 2021 | Plantation Drive on "International day of Forests"y | NSS Unit of Eternal University, Baru Sahib successfully completed the event of tree plantation drive on International day of Forests. Volunteers had planted lemon grass and vetivar on the top of the hills of Kakli (agriculture field) under the guidance of Prof. H.S. Dhaliwal, Former Vice Chancellor, Eternal University. |
| 20 March, 2021 | International Happiness Day | NSS Unit of Eternal University celebrated Happiness day. Volunteers collected donation from EU staff and distributed stationary items and chocolates among children of labours. |
| 02 October, 2020 | International Webinar | Attended International Webinar on "To propagate the philosophy and vision of Mahatma Gandhi in context of social issues amongst NSS Volunteers". |
| 26 November, 2019 | Celebration of Constitution Day on 26th November 2019 | On this occasion Dr. P. S. Cheema (Dean ACET), Mr. M. K. Khanna (NSS Co-ordinator) along with 70 students recited the preamble of constitution of India pay homage to Dr. B.R. Ambedkar. Students of NSS unit along with programme officer Er. Anita Chaudhary was also participated in the programme. |
| 24 September, 2020 | NSS Day (Jubilee Day) | Attended national NSS webinar on "Youth and Nation: Prospects and Challenges in new normal". |
| 16 September, 2020 | Webinar on NEP | Webinar link sent to all NSS Volunteers of "Creating Awareness about National Education Policy, 2020 through NSS/NCC/NYK/UBA Volunteers. |
| 08 March, 2020 | International Women' Day celebration | On this day, NSS Volunteers have performed a "Nukkad natak on women empowerment" to observe and celebrate women's day at Lana Bhalta panchayat of Rajhgarh Teh. Distt. Sirmour along with programme officer Er. Anita Chaudhary. |
| 05 March, 2020 | 5th Annual Athletic Meet | 12 volunteers worked as discipline committee members and many others participated in the sports activities. NSS volunteers actively participated in March past as well. Two volunteers received best NSS volunteer award: 1. Shivani B.Sc (Hons.) Physics 2. Pooja B.Sc (Hons.) Math. |
| 31October, 2019 | National Unity Day | Some students of NSS Unit performed a skit which was based on the theme equality in our society. Then the function was well ended with pledge ceremony by Er. Anita Chaudhary (NSS Programme Officer) and vote of thanks was given by Mr. M.K.Khanna (coordinator of NSS Unit). The function was followed by March-past saluting our national flag by our NSS and NCC Unit. All the students of NSS and NCC joined March past.. |
| 04 September, 2019 to 18 September, 2019 | Swachatta Pakhwada | Eternal University observed Swachatta Pakhwada week from 04 September, 2019 to 18 September, 2019. NSS volunteers of the University provided various services during this event. |
| 21 June, 2019 | International Yoga Day celebration by NSS Unit of Eternal University | A practice session and demonstration was organized by Ms. Meena Kumari. The session witnessed a huge turnout with Deans and Directors of various departments taking the lead to inspire faculty, support staff and security to join in. The event was attended by more than 50 NSS volunteers, staff and faculty members of Eternal University, Baru Sahib. |
| 08 March, 2019 | International Women' Day celebration | As a token of our efforts towards protection of environment and restoration of environmental quality and saplings of indigenous plant species were planted within the campus area by the NSS volunteers. Although NSS volunteers made a small size soakage pits in the compounds of their homes for water conservation. The pits, each of which had a diameter of 1m each, were filled with coarse rocks, brick ballast and coconut husk. These activities, it was hoped, would help save mother earth from total deforestation. Plants were distributed free of cost which has been provided by department of botany in local area near university.. |
| 05 June, 2019 | World Environment Day celebration by NSS Unit of Eternal University | The volunteers performed various task with great enthusiasm at the community kitchen (Guru ka Langar). Among 70 students, Ms. Manju and Ms. Rimpy Rathore were adjudged as the best. Some students of NSS Unit performed a nukkad natak and group dance on patriotic song. |
| 15 May, 2019 to 22 May, 2019 | NSS Special Camp (7 days) | NSS unit of Eternal University, Baru Sahib organized a NSS camp in the Baru Sahib from 15-05-2019 to 22-05-2019. 40 NSS volunteers participated in it and performed various tasks during the camp. This special camp was organized with the help of Professor Jaswant Singh (NSS Programme Co-ordinator). The Volunteers of the NSS unit performed many other activities – awareness programmes as literacy, tree plantation, health and hygiene, construction and repairs etc. under the guidance & direction of Er. Anita Chaudhary, NSS Programme Officer. |
| 10 May, 2019 | Mother Day Celebration | NSS Volunteers highlighted the role of mother's in the society & also about the present scenario of the Indian society. Students of NSS also presented a skit on mother's role and some students recieted very emotional poems. |
| 01 May, 2019 | International Labour Day Celebrations | Eternal University, Baru Sahib (H.P.) celebrated International Labour Day on 1 st May, 2019 to mark a respect to Labour class. A group song marked the beginning of the programme.NSS Volunteers presented a melodious song dedicated to labours. Speeches were also made by the NSS Volunteers and they presented a skit on the different occupation of labour. |
| 13 April, 2019 to 14 April, 2019 | 2 Day Camp on Baishakhi | The volunteers performed various task with great enthusiasm at the community kitchen (Guru ka Langar). Among 70 students, Ms. Manju and Ms. Rimpy Rathore were adjudged as the best. Some students of NSS Unit performed a nukkad natak and group dance on patriotic song. |
| 08 March, 2019 | International Women' Day celebration | On the day, NSS Volunteers have organized a "Nukkad natak on women empowerment" to observe and celebrate women's day. The volunteers of Eternal University are optimistic that the program made a great impact on the people of Baru Sahib in making them understand the fact that women and men are equal beings, deserve the same respect, opportunities and are also equally responsible for building a better future. |
Gallery