National Conference on Sustainability
Theme: Methods, Practices & Adaptation-Indian Perspective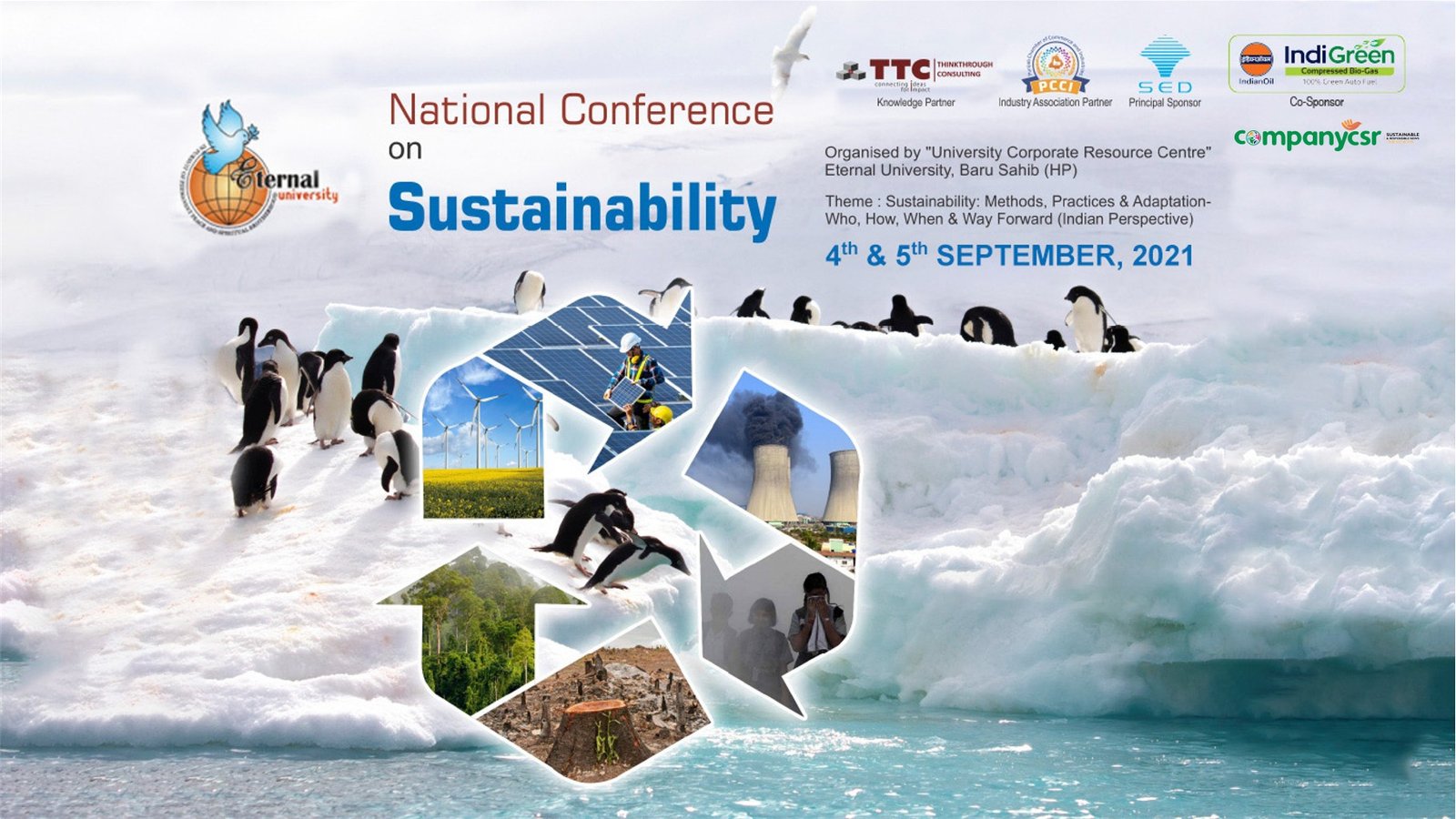 Gallery
National Conference on Sustainability
A National Conference on "Sustainability: Methods, Practices & Adaptation- Indian Perspective" (SMPAIP-2021)" was organised by University Corporate Resource Centre (UCRC), Eternal University, Baru Sahib on September 04-05, 2021 at University Auditorium, Eternal University, Baru Sahib. 
The conference was organised through nine different sessions which included inaugural, valedictory and seven technical sessions. More than 100 participants including faculty members, research scholars and postgraduate students from various colleges of Eternal University participated on the above theme about Sustainable Development Goals (SDGs). 
More than 30 experts from renowned organisations were invited to deliberate on key areas of SDGs (Online & In-campus) and share their rich experiences and valuable thoughts with the participants. Inaugural session commenced with devotional Hymn of Sant Kabir rendered by students of Akal College of Music and blessing of Hon'ble Baba Iqbal Singh Ji, Chancellor, Eternal University, Baru sahib. Dr. Amrik Singh Ahluwalia, Hon'ble Pro-Vice Chancellor, Eternal University, Baru Sahib welcomed all the delegates, speakers and participants from various colleges and sensitized the audience on the Topic of the Conference Prof. S. C. Ghosh, convenor of the conference introduced the invited speakers to all audience and also highlighted the theme of the conference through his oration entitled "Introduction and Tone Settings". The key note address was rendered by Dr. Harsh Kumar Bhanwala,. Chairman, Capitol India Finance Ltd. And Ex. Chairman, NABARD, Mumbai. The guest of honor of this session was Dr Jagir Singh Samra, Senior Adviser (Renewable Energy Programme), CRRID Ex-CEO, National Rainfed Area Authority, Planning Commission/ Niti Aayog, Government of India and special guest was Mr Vikas Verma, Regional Head UNPD, Northern Region, Panchkula. In his address, Dr. Davinder Singh, Hon'ble Vice Chancellor, Eternal University, Baru Sahib informed all the audience that Eternal University Baru Sahib is a living example of SDG lab and is committed to promote and further the 17 SDGs framework.  The conference was inaugurated by Hon'ble Chief Guest, Mr Tarun Shridhar (Retd, IAS), presently member- CAT, and New Delhi. In his address, Mr. Shridhar shared several personal experiences with the audience during his tenure as an administrator in Himachal Pradesh, especially in Sirmour district and complemented that Baru Sahib, where modern education is implemented with ancient culture (Value-based Education) is the best example of sustainable development.
This was followed by excellent theme based discussion by experts on various facets of SDGs
The highlight of the Conference was Abstract presentation by more than 50 students and faculty of Eternal University on various aspects of sustainable development. All of them were of high quality. The session was judged by eminent experts and 6 abstract were chosen for awards
The two-day event concluded with valedictory session with thanks-giving to one and all including the organisers. The guest of honor Mr Vivek Varma, MD SED industry congratulated the organisers for a successful event and committed to collaborate with the University in setting up state-of-the-art "Green House" and Incubation center in the university to help scholars explore new avenues of research. The awardees were also felicitated. Dr HS Dhaliwal, Former vice chancellor of Eternal University gave the prizes to the awardees 
The Key Takeways emerging out of a Two day conference
Eternal University, Baru Sahib will collaborate with various organisations like IRMA , SED industries to enhance research activity such as installation of Green House and others sustainable development in the campus
EU will advocate for 17 SGDs in the campus and create mechanisms to formalize some of the existing initiatives
New initiative by the faculty members to write research proposal on the theme discussed for funding to various organisation
The detail program and the "moments captured" is enclosed Please click the link